The Features of YIFAN Mobile Crushing Plant
Mobile crushing plant
is the new stone crushing equipment which is mainly used for material processing in the industrial department that require regular transportation work such as mine, chemistry, aggregate, building materials and water & power station.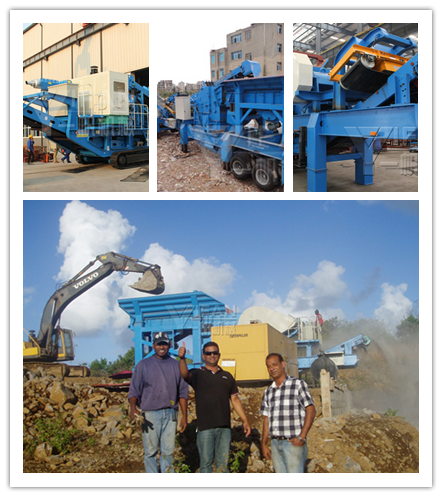 Characteristics of mobile crushing plant
●Lower the cost of transportation, it is of short length and different crushing equipment is separately installed on a separate mobile chassis;
●Flexible configuration and great adaptability, according to different requirements of different crushing process, pp series crushing plant can form the following two processes of crushing first, screening second or screening first, crushing second. The crushing plant can be composed of two-stage plants or three-stage plants. The two-stage plant consists primary crushing plant and secondary plant, while the three-stage plant includes primary crushing plant, middle crushing plant and tertiary crushing plant, each of which is of high flexibility and can be used individually.
●Reliable performance and convenient maintenance. YIFAN brand crushing plant, such as jaw crusher, impact crusher, vertical impact crusher, cone crusher, vibrating screen, is of good performance, high reliability.
Mobile crusher
plant mainly use these machines and the design of all these machines have been optimized that results in higher strength, better performance and more impact structure.
●Adopt automatic design, LCD panel to display working state.
●Mobile chassis has standard lighting and braking system in line with international standards
●Hydraulic hopper opens quickly and conveniently.
●Hopper adopts unitized design to reduce the transport height greatly.
If you need YIFAN mobile crushers or similar products, please contact us. We will provide you with more help and services. Whenever you need help, please feel free to contact us through "Live Chat" system to get more info about mobile crusher machine, and we are here to offer service to you.
Inquiry
Please enter your demand such as Raw material type, Feeding material size, Final product size. To become our quality clients will have access to a 2%-10% discount of contract!