Mobile crushing station to solve the problem of pollution in
Zhengzhou days without blue" recently released Chinese city of fog and haze rankings, Zhengzhou impressively list, ranked 10 cities across the country. Causing serious haze has three main culprit, the first one is the construction dust, is fired after the car.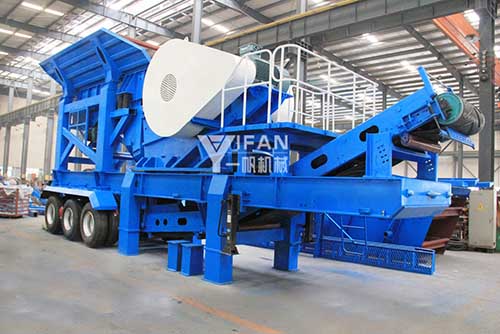 Zhengzhou city about 2,000 multiple sites under construction, construction site demolition site are often filled with dust, pedestrians have their noses through the past, and ate a lot of bitterness. At present, this phenomenon is very common, has seriously polluted the air in Zhengzhou, affecting the normal production and life of the people.A town located in the western suburbs of Zhengzhou transformation of the demolition site, the ruins I saw a giant device is busy job, a bustling scene, turned out to be a mobile crusher station equipment in the construction waste crushing into renewable building materials field, we understand that the use of such mobile crushing station can be demolition, construction, renovation projects and road construction waste generated by the crushing and screening gravel, etc., can be the original construction waste into several different specifications recycled building materials, construction of these types of materials can use backfill, recycled concrete base material, cement, dry mortar ingredients, while still unburned, along the road brick, square brick, and a hundred kinds of bricks main source material.
Many of the Zhengzhou city construction site, if you are just demolished the case regardless of pollution, the city will inevitably bring great harm to the people, building waste difficult gone, the new mode of construction waste public awareness and being widely applied, using Zhengzhou Yifan Machinery Co., mobile crushing station construction waste regeneration, not only can prevent private pull Dumping of construction waste, but also to achieve regeneration benefits, but also effectively relieve the shortage of natural stone, is a fully staffed engineering, also will be in the future and the country Zhengzhou major construction waste treatment.
Inquiry
Please enter your demand such as Raw material type, Feeding material size, Final product size. To become our quality clients will have access to a 2%-10% discount of contract!