Multifunctional mobile crushing station
Mobile crushing plant has the absolute advantage than the average crushing equipment.In fact,mobile crushing station was first used in the cement industry is gradually appear in the application in mining industry.Mobile crushing plant produced by Zhengzhou Yifan Machinery Co., have excellent crushing capacity in crushing mines,in addition to mining, processing efficiency of mobile crushing station construction waste is amazing,truly a place recycling of waste resources,can move close any processing sites,reducing transportation costs and secondary pollution,can produce a variety of recycled aggregate in the form of a combination of several mobile devices,there is a feature that,in the absence of power supply,mobile crushing station can also use diesel-driven,truly dual,solving the problem what user might encounter.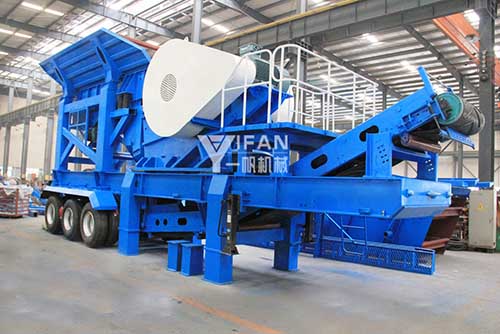 Zhengzhou Yifan Machinery Co., Ltd. is a professional manufacturer of crushing and screening equipment,the plant has been 14 years since the majority of users praise,machines those were sold never encountered return of the sort of thing,because it really depends Yifan Machinery good service,Yifan company production line for customers tailored solutions,installation,commissioning and maintenance of responsible sold crusher,solve the user's worries.
Inquiry
Please enter your demand such as Raw material type, Feeding material size, Final product size. To become our quality clients will have access to a 2%-10% discount of contract!