YIFAN Mobile Crushing Plant Best for Nigeria
In today's Nigeria,there is a type of YIFAN's
Mobile Crushing Plant
which get the favor of Quarry managers ,for their outstanding advantages that stationary crushing plant couldn't catch up.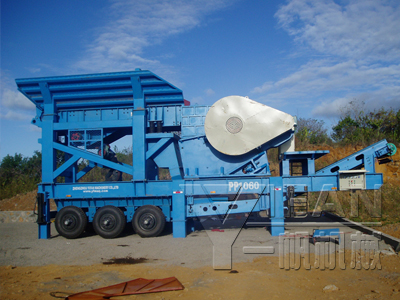 The outstanding performance of PP series Mobile Crushers:
[1] Great mobility: PP series Mobile Crushing Plants are of short length. Different crushing equipment is separately installed on a separate mobile chassis. Its short wheelbase and tight turning radius mean they can be transported on highway and moved at crushing sites .
[2] Lower the transportation cost: PP series Mobile Crushing Plant can crush the materials on-site. It is unnecessary to carry the materials from one site and then crush them in another one, which can greatly lower the cost of transporting materials for off-site crushing.
[3] Direct function: Integrative series portable crusher can work independently. For different customers′ Requirements on material and product size, flexible process can meet the requirements of portable crushing and screening, which can greatly decrease the cost.
[4] Flexible configuration and great adaptability: According to the different requirements of different crushing process, PP series Mobile Crushing Plant can form the following two processes of "crushing first, screening second" or "screening first, crushing second". The crushing plant can be composed of two-stage plants or three-stage plants. The two-stage plant consists primary crushing plant and secondary crushing plant, while the three-stage plant includes primary crushing plant, middle crushing plant and tertiary crushing plant, each of which is of high flexibility and can be used individually.
[5] Integrative whole set: Integrative installation avoids the multifarious works for separate machine installation, and decreases material and time expenditure. Compact composition improves the on-site flexibility.
[6] Reliable performance and convenient maintenance: Shande brand crushing and screening equipment, such as jaw crushers, impact crushers, sand maker, cone crushers, vibrating screen, is of good performance, high reliability. Mobile plants mainly use these machines. The design of all these machines have been optimized, which results in higher strength, better performance and more compact structure.
And now the most popular Yifan's mobile crushing plants are normally consisit of PP series Mobile Jew Crushers Plant and PP series Cone Crushers Plant. And there is a vibrating feeder on the PP series jew crusher and a vibrating screeen on the PP series cone crusher which make up an efficient aggregate processing line perfectly.
Crusher machine manufacturer YIFAN not only supply worldwide customers all types and models of crushing machines, but also help them design complete stone crushing plants, artificial sand making production lines and ore crushing production lines etc. YIFAN pursues excelsior on product quality and have approved CE, ISO:9001 and SGS. We have perfect after-sale service network and could offer rapid maintenance service on demand. Every year, YIFAN can turn out 30,000 tons of crusher parts and 1500 sets of
mobile crushers
. We also supply individual crushers as well as spare parts of them. Whenever you need help, please feel free to contact us through "Live Chat" system to get more info about crusher machine, and we are here to offer service to you.
Inquiry
Please enter your demand such as Raw material type, Feeding material size, Final product size. To become our quality clients will have access to a 2%-10% discount of contract!