The advantage of JC jaw crusher
JC series
jaw crusher
is a new product manufactured by Zhengzhou Yifan Machinery Co.,LTD,which is based on traditional design experience,import international advanced crushing technology and research achivement and make use of finite element analysis method.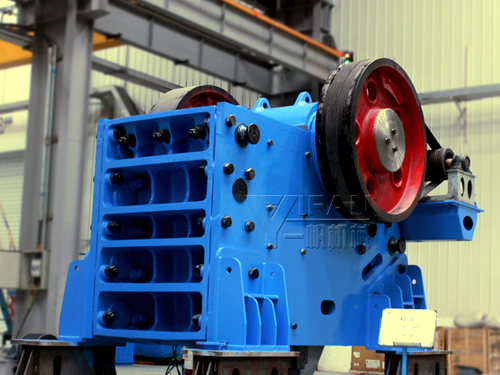 JC Jaw Crusher
Compared to the traditional jaw crushers, JC series jaw crusher pays more attention to design and manufacture details,employs high-strength material and advanced manufacture processing, make it higher strength of structure,more reliable,much bigger ratio of crushing,more capacity and lower comprehensive cost.
The frame have welding type and assembling type:the samll and medium model uses welding type,the big model uses assembling.
The welding type uses the big radian circular bead,welding low stress area,greatly reduce excessive stress concentrate,garantee the the same strength from all the directions,make it uniform force,low fault and so on.
The assembling uses the advanced modularization,no welding structure,bigger fatigue strength,more reliable,easy to transport,install,especially for underground mine,high altitude ming,some place hard to transport symmetrical "V" cavity design,the big toggle plate dip angle,big stroke,reasonable revolving speed,makes the input size more bigger,more capacity,uniform granularity,lower abrasion between jaw plate.
The heavy movable plate assembly equips with the heavy forged eccentric shaft, high quality heavy rolling bearing,the optimized movable jaw plate by limited , limited finite element software,guaanrtee themovable plate assembly high shock resistance and reliability;labyrinth seal,concentrate lubrication system guarantee the bearing not polluted ,easy to lubricate,make it work longer,reliably.
Above the movable jaw plate set the guard plate to alleviate the stone impact and protect the movable jaw plate ,bearing ,meanwhile play a role as stock guide.
The whole cast steel bearing pedestal structure matches up frame,avoids the assembling bearing pedestal's unnecessary radial load in the fastening process,make the bearing working stably.
The JC series jaw crusher uses the machinery or hydraulic discharge opening structure,the two wedges adjusting setting makes the adjustment easy,safe,fast,and save the stop time.
The motor pedestal and frame is set together,which saves the installment space ,reduces the v-belt length,meanwhile because the frame,moter pedestal,motor work together,the v-belt tension could be adjusted by adjustable motor pedestal,accordingly extend the working life.
The jaw crusher employs special rubber shock absorption to fasten,which effectively absorbs vibration peak,and can stand the vertical and horizontal direction displacement,accordingly reduces the shock to the base.
Whenever you need help, please feel free to contact us through "Live Chat" system to get more info about
jaw crushers
, and we are here to offer service to you.
Inquiry
Please enter your demand such as Raw material type, Feeding material size, Final product size. To become our quality clients will have access to a 2%-10% discount of contract!